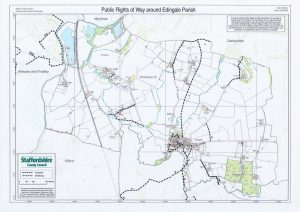 Pessall Walk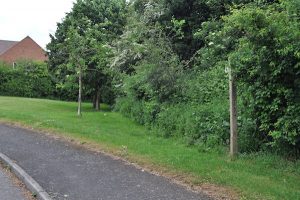 Starting in Blakeways Close this is a circular walk composing of Footpaths 1,2 & 15 on the Right of Way Map map. – Length approx. 4.5Km

Head due North approx 2km until you reach an East/West footpath where you turn West. After 300m (at the electricity Pylon) turn South. After 600m you join the top of Pessall Lane. Continue South on Pessall Lane for 1.6km until you reach the bridge over Pessall Brook. Either turn left onto the footpath to return to Blakeways Close or carry on into the village.
River Mease Walk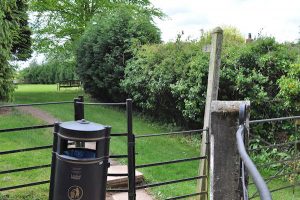 Starting at the Black Horse this is a figure of eight walk composing of Footpaths 7,8,13,14 & 15 on the Rights of Way Map. – Length approx. 2.4Km.

From the Pub follow Church Lane past the Church and turn left into the churchyard at the gate. Head South to the pasture and aim for the stile in the far hedgerow. Aim for the next stile where the next hedgerow meets the river. Follow the river to the footbridge and cross over. Take the right hand footpath to the South West until you reach Scotland Lane. Turn left towards Harleston and follow the lane until you see a footpath on your left. Follow this footpath to the footbridge and cross over. Retrace your steps over the two stiles. At the second head North East towards the kissing gate in the hedgerow at the top of the slope. Through the Kissing Gate follow the footpath into Schofield Lane and back to the Pub.
Pingle Meadow
Starting at the Village Hall this footpath is not listed on the Rights of Way Map – Length approx. 2.4Km.

Cross the playing fields to where the hedgerows meet and turn left onto the track. Follow the path past the sewerage plant (no smells, honest). At the bottom of the slope keep left. The footpath follows the course of the river until the end of the wood where the path turns right and takes you back to the start. A short but very peaceful walk with ample opportunity to see flora and fauna (depending on the time of year).