Best Kept Village Presentation event
Hopefully you are aware of Edingale's excellent success in the Staffordshire BKVC competition, winning overall in the small village section.
On Friday 3rd November Richard Winterton (key sponsor for BKVC) and Jo Cooper (Community Foundation for Staffordshire – organisers of the BKVC ) gave a presentation on the BKVC and awarded Edingale the BKVC winners sign.
See the article from the Tamworth Herald which describes the presentation event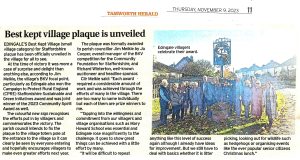 .