Garden Bin sign up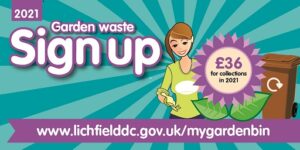 Registration is now open for the garden waste service, and Lichfield District Council is urging local residents to sign up again to have their brown bins emptied in 2021.
From grass cuttings and weeds to leaves and dead plants, brown bins are a great way to recycle your garden waste. Composting is also good for the environment and can save time consuming trips to your local household waste recycling centre.
2020's prices have been held and it will continue to cost £36 per garden waste bin for fortnightly collections next year. This works out at around £1.56 per bin collection. The council makes 23 garden waste collections from the end of January to mid-December.