Support for older people to stay independent at home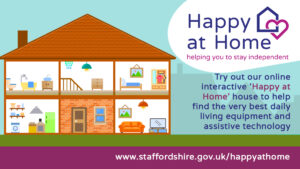 People who want to be more independent in their own homes are being urged to try out a new interactive online tool.
The innovative 'Happy at Home' house will help highlight the range of simple and affordable assistive technology equipment available to people who may be struggling with everyday tasks around the home.
The resource allows users to take a tour around a typical home, prompting them about difficult situations and day to day tasks they could encounter.  Users are then presented with a range of ideas and solutions that they can then easily compare and acquire.
Simple and inexpensive gadgets that can help someone to prepare food, get washed or dressed or feel safer around their home are examples of the kind of products being highlighted.
Click on the link below for more information.
https://www.staffordshire.gov.uk/Advice-support-and-care-for-adults/Help-and-support-with-daily-living/Daily-living-equipment-and-technology/Support-at-home.aspx?ut